Chaplaincy Team
We are very privileged at Hutton to have a team of chaplains to minister to all members of our Christian community.
Chaplains play a big role within the spiritual, moral, cultural and social life of our school. They regularly lead our main worship events within school, helping us to observe and celebrate throughout the Christian calendar. They visit lessons, take part in extra curriculum activities and can offer pastoral support on request. We also have the privilege of local Youth Minister Jason Spender and Youth for Christ director Nate Turner regularly coming into school.
Father Matthew chaplain to Year 7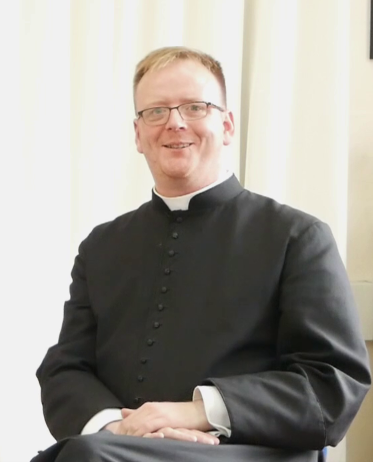 Father Matthew is the minister of the United Benefice of Lostock Hall St James and Farrington Moss St Paul. You can find out more about this United Benefice at https://www.facebook.com/pg/lostockhallstjames/about/
Father Matthew has a Bachelor of Theology from Cambridge University and holds a Masters Degree in Practical Theology from the University of Cumbria.
His favourite colour is purple, loves to eat a Waitrose Chicken Kiev (other supermarket brands are available!) and is an avid fan of reading.
A most interesting fact about Father Matthew is that he can speak over 20 different languages… now there is a person to ask if you need help on a MFL exam!
Father Matthew is a Trustee of Hutton Grammar. He regularly leads worship and special services and will lead us in the Eucharist at Easter. Father Matthew will also be helping to run Confirmation classes for any student who wished to be confirmed in the Christian faith. For more details please email Mrs Watson (Head of Religious Studies) on l.watson@huttongrammar.org
Click here to find out how Father Matthew responded to some really important questions the students at Hutton wanted to know…
Before you continue to YouTube
Father Mansfield chaplain to Year 8 & 9
Reverend David Dickinson Chaplain to Years 10 & 11
Reverend David Dickinson is the minister of Hesketh Bank with Beckonsall Parish. You can find out more information at https://www.achurchnearyou.com/church/11504/
Reverend David is a 'local lad' educated at Chorley and Runshaw College. Reverend David was a teacher and then Head of Religious Education for many years. He has a Bachelor of Theology from Banger University, holds a Masters Degree in Religious Education and Moral Education and is trained counsellor.
Reverend David's favourite colour is royal blue, when asked what his favourite food is replied, 'Whatever is on the plate in front of me. I didn't get this size by eating salad!" Enjoys cricket, rugby and football (a Preston North End supporter).
Reverend David regularly leads worship and special services at Hutton. He will also lead us in our Easter Eucharist. Reverend David also supports the Religious Studies Department by delivering lessons as a part of the GCSE specification, helping unravel students' understanding of atonement and salvation within the Christian faith. Reverend David is also available for pastoral support upon request.
Click on the following image to find out how Reverend David responded to some really important questions the students at Hutton wanted to know…